Microneedling Training Course
Level : Beginner
Price : £550 + VAT
Duration of Course : 1 Day
CPD Hours : 8 Hours
Practical experience : 4 hours with live patients
This course is suitable for you if you are a medical professional looking to expand your treatment portfolio away from Botox and dermal fillers into the area of skin rejuvenation therapy or alternatively if you are a Beauty Therapist looking to develop your skills into advanced facial aesthetics.
Book Course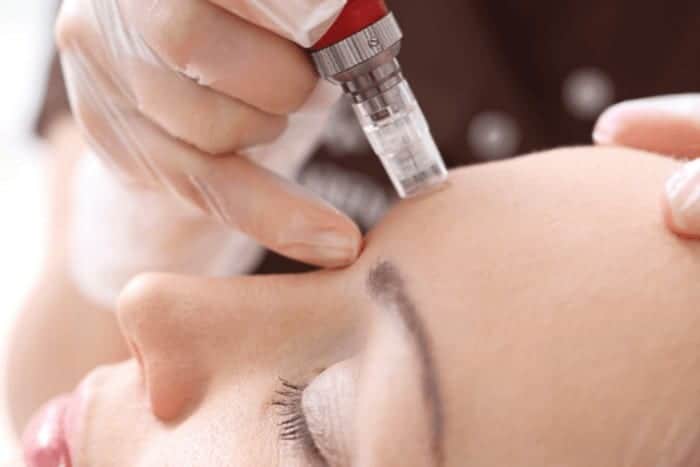 Our Microneedling training course combines two popular treatments and devices, hand held microneedling & The Collagen P.I.N. Offering the latest in microneedling within a comprehensive hands-on day course, teaching the fundamental skills to integrate these unique procedures into your aesthetic clinic. Once completed delegates have the option to purchase either of the devices.
Part 1: Hand Held Microneedling training
Hand held microneedling is an effective treatment that works by rolling a small device covered in medical-grade needles over the surface of the skin. This penetration stimulates the skin to regenerate and repair itself naturally and safely over a period of 4-6 weeks.
How will hand held microneedling training benefit you?
Excellent profit margins – the cost of a hand held microneedling treatment is approximately £90 which you can charge out at around £250 per treatment offering a potential profit of £160 per treatment
Attract a different clientele – this unique procedure uses  no artificial products  offering an excellent safety profile for patients who are potentially afraid of more invasive treatments
Treat a wide range of skin conditions – acne scarring, stretch marks, chicken pox scarring, sun damage, uneven skin tone and fine lines
Increase patient retention rate – as with the chemical skin peel treatment, this procedure is normally performed as part of a course of treatments increasing the opportunity for repeat business
Part 2: Collagen P.I.N. Training
Cosmetic Courses is proud to offer the latest technology in microneedling using the Collagen P.I.N. This hands on course will demonstrate the latest in skin rejuvenation, giving enough practical and theory to integrate this unique procedure into your aesthetic clinic.
The Collagen P.I.N. (Percutaneous Induction Needling) is an automated micro-needling device used to produce controlled wounds on the skin. This process activates the bodies own healing mechanism releasing growth factors as well as the patients natural collagen and elastin, resulting in the reduction of fine lines, wrinkles, and other signs of ageing.
The Collagen P.I.N. represents an evolution of the micro-needling process, with three times more needles than many other devices currently on the market. This procedure also causes less damage to the visible outer layer of the skin than traditional dermaroller micro-needling, proving quicker healing times and faster results.
Benefits of micro-needling with the Collagen P.I.N.
Higher intensity then the dermaroller treatment with more entry points and a better result
Less painful then other similar treatments
Targets troublesome scarring
Versatile head able to reach smaller areas such as upper lip and under the eye
How will training in the Collagen P.I.N. training benefit you?
Dependant on experience and location this can be charged between £150 and £300 per treatment in your practice
The Collagen P.I.N. is the latest in microneedling skin care, attracting a new clientele to your clinic and providing your existing patients with the latest aesthetic treatments.
Treat a wide range of skin conditions – fine lines and wrinkles, skin ageing, pigmentation, uneven skin tone, acne scars, stretch marks, large or open pores and can all be treated on the face, neck, arms, legs, hands, back and stomach to address such concerns.
Patient retention and an upsell on products- those who receive the treatment will see benefits from 1-2 weeks after. Similarly to the Dermaroller and Chemical Peel a course of treatments It is advised as well as a strict skincare routine to gain optimum results from the Collagen P.I.N.
Frequently Asked Questions
Why choose Cosmetic Courses for your Microneedling in Collagen P.I.N. training?
With 16 years of experience we know what it takes to become a successful aesthetic practitioner and our trainers will share their clinical and business knowledge so that you are fully equipped to launch your aesthetic career
We provide on-going support after your training
Our Collagen P.I.N. training has been designed with the UK's main manufacturer of the Collagen P.I.N.
Merchandising materials for your clinic
Post-training product and commercial support
Practical hands-on training on live models provided by us to ensure you have the confidence to safely and effectively treat your own clients
All training is carried out in dedicated clinical environments
Microneedling training will result in you obtaining a clinical and practical skill base that will enable you to immediately integrate this procedure into your practice
Clinic based training as opposed to manufacturer training to provide first hand experience of the treatments and how to achieve the best results for your patient
Training in both manual and mechanical microneedling
Save around £500 on current distributors pricing
Please click here for our Terms & Conditions.
Related Information
Trainers
Contact Us
Call us on 01844 390110 or send an enquiry: